Browse all case studies
16 June, 2021
Black Cockatoo habitat revegetation
Curtin's Black Cockatoo Action Plan (2016-2018) was developed to revegetate available land on campus and mitigate further decline in the already dwindling numbers of black cockatoo species.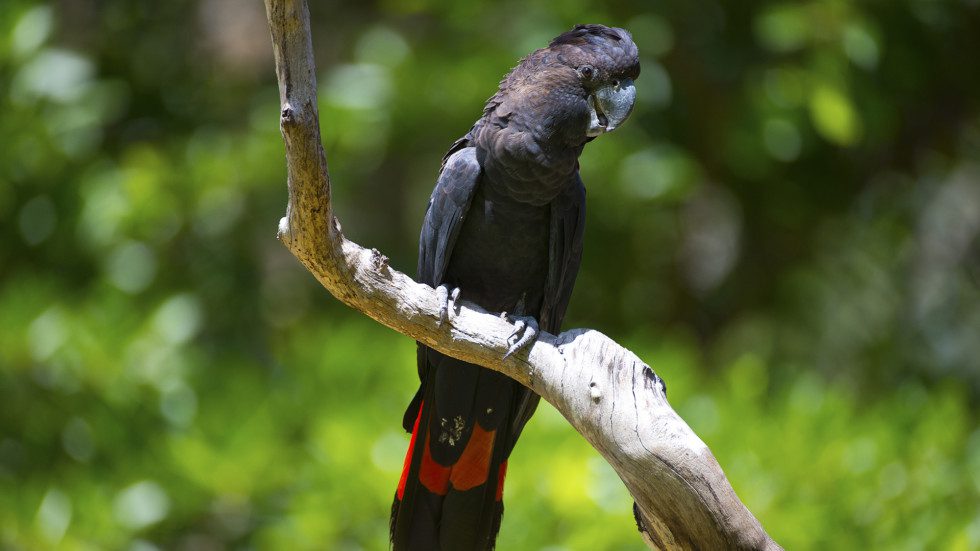 In 2012, it was identified that a number of mature Maritime pine trees (Pinus pinaster) would be compromised by the developments encompassed in the Greater Curtin Master Plan, along with many mature pines earmarked for their natural life span to reach an end in the coming years. These pine trees provided an important habitat for the native Carnaby's Black Cockatoo (Calyptorhynchus latirostris) and Forest Red-tailed Black Cockatoo (Calyptorynchus banksii subsp. Naso). Both species are classified as endangered by the Environment Protection and Biodiversity Conservation Act (EPBC) under Commonwealth legislation, and as specially protected fauna under the Western Australia Wildlife Conservation Act.
Under the direction of the action plan, a variety of mature tree and tube stock including Tuart (Eucalyptus gomphocephala), Marri (Corymbia calophylla), Banksia (Banksia grandis and Banksia menzies), Willow myrtle (Agonsi Flexuosa) and Red-flowering gum (Corymbia ficifolia) have been planted on-site. Additionally, the degraded wetlands around Jack Finney Lake, adjacent to the University's Kent Street entrance, were also revegetated with large trees, including Flooded Gum (Eucalyptus rudis), Banksia (Banksia littoralis), macadamia and almond, to provide an additional food source for the Black Cockatoo. Plant selection was based on suitability for feeding, roosting and breeding, with short term, high impact species favoured to address immediate food shortages.
Since the delivery of Curtin's Black Cockatoo Action Plan commenced in 2016, the below has been achieved to date:
Increase of 499 black cockatoos within City of South Perth and Town of Victoria Park catchments between 2016 (290) – 2019 (789) as captured in Birdlife Western Australia's 2019 Great Cocky Count.
6,492 trees planted
2,304 tube stock planted
600 shrubs planted
To further Curtin's commitment to the protection of black cockatoos, the below actions will be undertaken in the coming years:
Delivery of the Curtin University Urban Forest Action Plan for 2020 – 2025
Development of maintenance regimes and systems to monitor and assess the health and growth of the urban forest
Ongoing revegetation of land to mitigate any loss during the Exchange precinct redevelopment
Continuation of annual planting of key tree species and water locations across the Perth Campus
Share this case study
Help extend our voice and share this within your network.