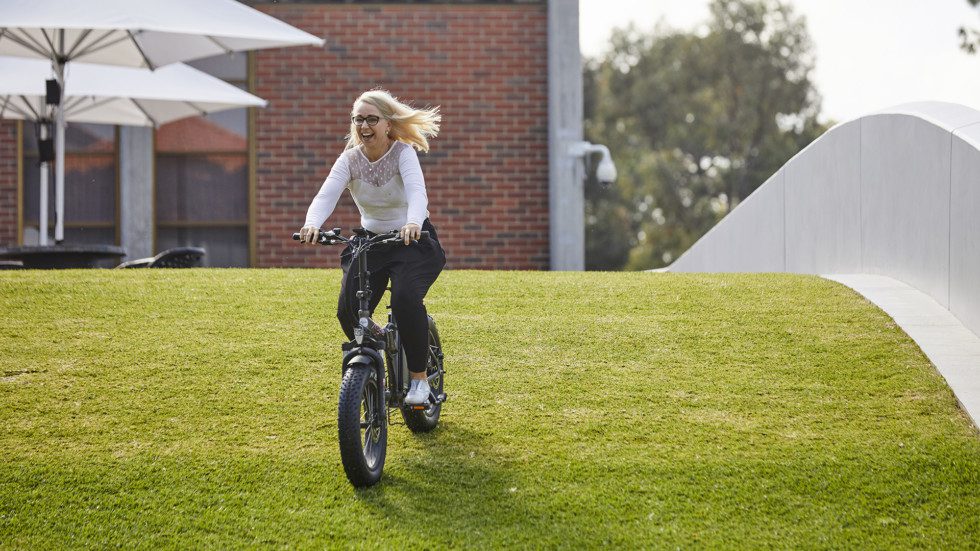 There's a fantastic network of shared paths in and around the university to make it safe for you to cycle and a wide selection of places to park your bike while you're on campus.
Bike users map and suggested cycle routes
Below is a map of where racks, parks and pods can be found on campus as well as some suggested route maps when cycling to campus from various locations.
eBike loans
Curtin University now offers eBikes to staff to trial for 2 week loan periods. An electric bike is a pedal assisted bike that makes cycling more comfortable by allowing the rider to reduce the effort required to push the bicycle forward.
There are different styles available and you may choose a folding, compact, trike or standard bike. If you do not choose you will be offered a standard bike.
Simply email transport@curtin.edu.au to add your name to the wait list for this opportunity.
Where to park your bike
There are a range of facilities at Curtin to make it easier to park your bike:
Over 500 bike racks at more than 40 locations, campus-wide
Secure bike parks located at the following buildings: B108, B500 (showers/lockers), B410 (showers/lockers), B302, B107 (showers/lockers)
Bike pods include electric bike charging points, lockers and shower facilities: B160, B315, B409, B214, B217
Bike pods and parks require swipe card access. Contact security (+61 8 9266 4444) for more information
Bike part vending machine
There is a vending machine next to the sea container outside of B408 and Anghazi Café, that provides emergency items for you and your bike. Items such as spare tubes, bike lights, and locks are available.
There are also bike pumps and repair stands nearby to do any maintenance that is needed on your bike.