21 November, 2020
Curtin 5G Lab
Curtin and Optus have formed an exciting and transformative partnership underpinned by the 5G network.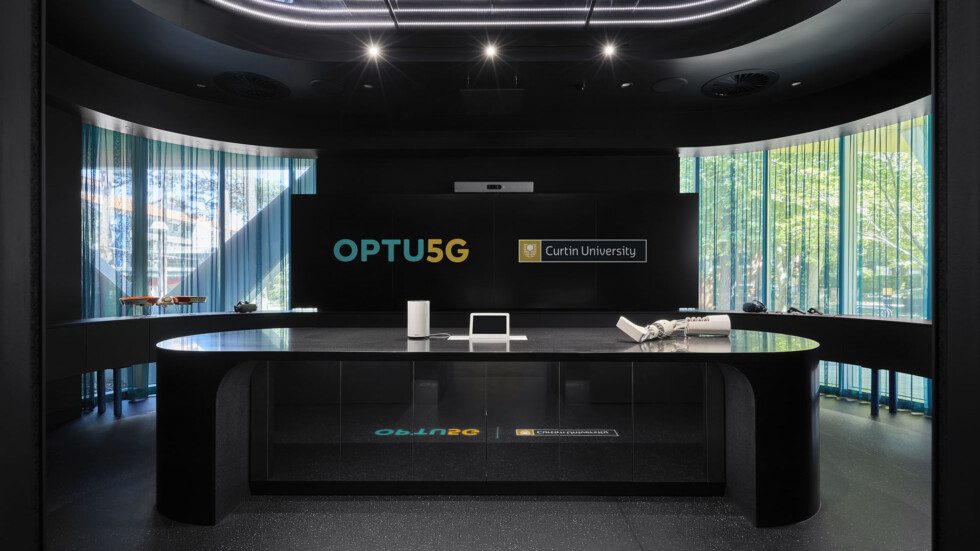 Part of the co-investment has resulted in the creation of the Curtin 5G Lab, which is powered by Optus and provides the space for research, teaching & learning, and collaboration on 5G projects. The lab enables exploration into 5G technology's benefits for society and business and gives students new digital skills through practical, hands-on experience while also collaborating with industry.
Construction of the new 5G Lab commenced early July 2020 in the existing Building 216, Room 101 right near the Creative Quarter. The space has been designed to be dynamic and immersive, with 5G capability to support research, innovation and testing for Curtin, Optus and industry personnel. The design is bold and eye-catching, signalling a different type of space for Curtin Perth.
Former Curtin Vice-Chancellor Professor Deborah Terry said the new 5G partnership not only furthers the Optus-Curtin Innovation Alliance, but will foster a culture of entrepreneurship among students and ready a new generation of graduates for a digital economy.
"The lab will give us the space to educate and conceptualise the application of the new technology and enable our students and staff to make substantial contributions to the Australian industry and economy."
Professor Deborah Terry
Former Curtin Vice-Chancellor
5G is predicted to transform the Australian economy through new technological innovations across a range of industries and Curtin is thrilled to be at the forefront.
For room bookings or more information about the 5G Lab, please contact Optus5GLab@curtin.edu.au.
Share this article
Help extend our voice and share this within your network.