23 September, 2022
Exchange precinct receives Environmental Excellence Award
Our new Exchange precinct has been awarded the Environmental Excellence Award by the Urban Development Institute of Australia (WA). Congratulations to all those who have contributed to this achievement.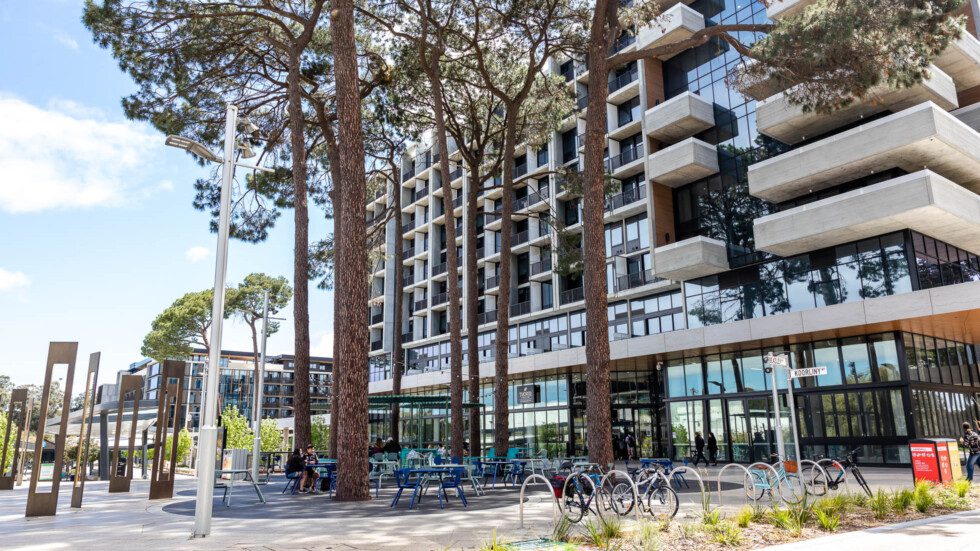 The award
Presented at the annual WA Awards for Excellence, the Environmental Excellence Award recognises the innovative leaders in the State's urban development field with a particular focus on their commitment to conservation. It is widely regarded as the pinnacle for the urban development industry in terms of achievement in community creation, innovation and sustainability.
A judging panel comprised of independent industry experts conducted a site visit and assessed the Exchange precinct development over various weighted criteria. They praised the precinct's overall economic, social and environmental aspects to achieve sustainable outcomes.
Exchange will now be eligible for nation-wide recognition at the 2023 UDIA National Awards.
The precinct
Exchange – an innovation precinct that was ratified as the first stage of the Greater Curtin Master Plan – sits at the northern end of Curtin University's Bentley campus, just 6km from the Perth CBD. The precinct's primary purpose is to connect people by bringing together industry, community and education in a place that serves as a home, a place to study, work, research and a recreational destination where residents, students and visitors can exercise, relax, catch up, shop, share great food and be entertained.
During all stages of Exchange's development, Curtin prioritised carbon reduction, responsible water management, protecting the Carnaby's habitat, walkability and alternative modes of transport to make it a truly sustainable and urban hub.
By prioritising environmentally and socially sustainable objectives while endeavoring to create a thriving and vibrant place, Curtin has sought to attract both those who consciously support the pursuit of environmental excellence while also welcoming those who, simply by being at Exchange, incidentally participate in it.
Curtin's Exchange precinct is home to St Catherine's College, UniLodge's Twin Dolphin Hall, the Nesuto Curtin 60-room boutique hotel, 38 self-contained Zamia Apartments, Curtin College, Curtin's School of Design and the Built Environment and the newly opened Tucker Fresh IGA, and will include a range of food and beverage outlets.
Share this article
Help extend our voice and share this within your network.